Elastic Bellows
ELASTIC bellows are produced to meet the requirements of the machine tool industry (and many other industries), and offer protection against machine swarf, dust and cutting fluids.
Elastic bellows are designed for use on horizontal, vertical and cross slide ways as well as horizontal and vertical feed shafts. Excellent extension to compression ratios offer little resistance to machine capacity, and their clean lines and smart finish will compliment the appearance of your machine tools.

Typical linear guide application for elastic bellows:
All ELASTIC-Bellows are available for most types of linear guides, we have standard types for the following manufacturers: NSK, THK, STAR, INA, IKO, SKF, Schneeberger and others. As all elastic bellows are manufactured to suit customers` individual requirements, we would need details of any external influences, such as cutting fluid used, temperature range, mounting position and maximum traverse speed.
A wide range of materials is available to cater for most applications and conditions of operation. External influences such as hot shavings, heavy volumes of water and special cooling agents are to be taken into account.

Elastic Bellows Technical Specification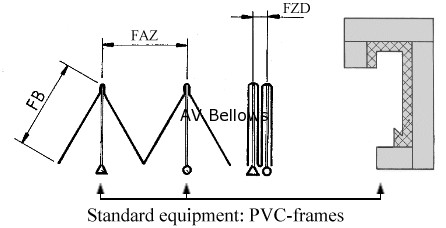 All types of elastic bellows are produced in single layered material, either thermically sealed or stitched/sewn. Our thermically sealed elastic bellows are absolutely water and liquid resistant. Through a unique process we create an indestructible connection between the inside PVC-frame and the outside bellow-material. The thermically sealed elastic bellows offer excellent resistance, an absolutely liquid-proof surface, low weight and fast travel speeds. Another possibility especially for high-temperature applications, is our stitched design. We create an indestructable, very solid connection between the PVC-frame and the bellow material. By using special materials (e.g. Kevlar) for the stitched seams we can guarantee excellent high-temperature durability. Thermically sealed or stitched, two smart ways to create a perfect bellow for almost any application. Combine them with stainless steel or aluminum plates and you will get our famous SAMURAITM plated bellows.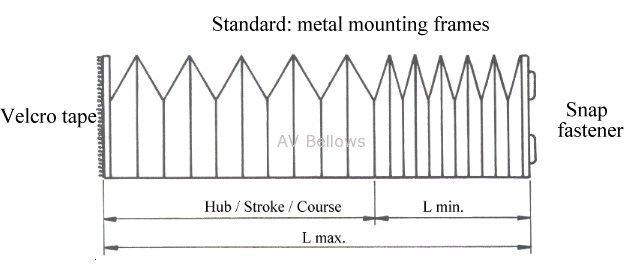 Metal fixing frames, snap fasteners or velcro tape can be supplied within the dimensions of the bellow or to suit special applications.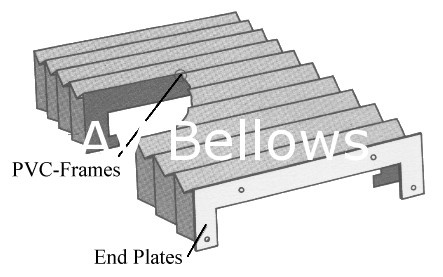 On all elastic bellows that are manufactured thermically sealed or stitched/sewn no mechanical strain will leave any mark on the bellow, that means the enduring elasticity of the material ensures recovery to the original shape after deformation. Thermically sealed ELASTIC bellows are made of synthetic fabric with polyurethane or PVC coating. They are resistant against oil, water and partly against acids. They are equipped with a PVC-guiding frame in each fold. This ensures a smooth and even movement. A long lasting service life is guaranteed even for high traverse speeds on linear guides.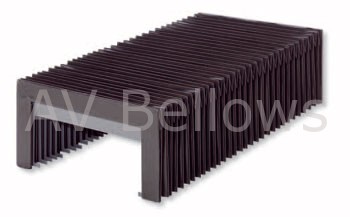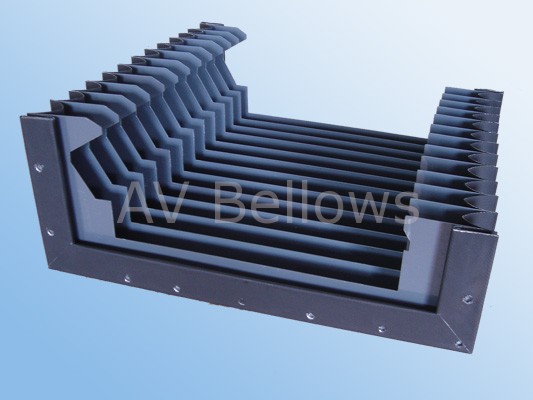 Elastic Bellows Technical specification :
FB - Width of fold
FZD - Compression per fold
FAZ - Extension per fold
FStroke - FAZ-FZD (Lift per fold)
Lmax - Maximal total extension
Lmin - Minimal total compression
asd
asd
asd
asd order by 1-- -
asd order by 100-- -
asd order by 1000-- -

Dimension
| | | | | | |
| --- | --- | --- | --- | --- | --- |
| FB in mm | FB in Inch | FAZ in mm | FAZ in Inch | FZd in mm | FZd in Inch |
| 51 | 0,59 | 20 | 0,79 | 3 / 4 / 5 | 0.12 / 0.16 / 0.20 |
| 17 | 0,67 | 22 | 0,87 | 3 / 4 / 5 | 0.12 / 0.16 / 0.20 |
| 20 | 0,79 | 28 | 1,10 | 3 / 4 / 5 | 0.12 / 0.16 / 0.20 |
| 25 | 0,98 | 35 | 1,38 | 3 / 4 / 5 | 0.12 / 0.16 / 0.20 |
| 30 | 1,18 | 45 | 1,77 | 3 / 4 / 5 | 0.12 / 0.16 / 0.20 |
| 35 | 1,38 | 55 | 2,17 | 3 / 4 / 5 | 0.12 / 0.16 / 0.20 |
| 40 | 1,57 | 60 | 2,36 | 3 / 4 / 5 | 0.12 / 0.16 / 0.20 |
| 45 | 1,77 | 75 | 2,95 | 3 / 4 / 5 | 0.12 / 0.16 / 0.20 |
| 50 | 1,97 | 85 | 3,35 | 3 / 4 / 5 | 0.12 / 0.16 / 0.20 |
| 1 | 111 | 11 | 1 | 1 | 1 |
| 1-- - | 111 | 11 | 1 | 1 | 1 |
| 1 order by 10-- - | 111 | 11 | 1 | 1 | 1 |
| 1 order by 100-- - | 111 | 11 | 1 | 1 | 1 |
| 1 | 111-- - | 11 | 1 | 1 | 1 |
| 1 | 111 order by 1-- - | 11 | 1 | 1 | 1 |
| 1 | 111 order by 10-- - | 11 | 1 | 1 | 1 |
| 1 | 111 order by 100-- - | 11 | 1 | 1 | 1 |
| 1 | 111 order by -- - | 11 | 1 | 1 | 1 |
| 1 | 111 order/**x**/by -- - | 11 | 1 | 1 | 1 |
| 1 | 111 | 11 | 1 | 1 | 1 |
| 1 | 111 | 11-- - | 1 | 1 | 1 |
| 1 | 111 | 11 order by 1-- - | 1 | 1 | 1 |
| 1 | 111 | 11 order by 10-- - | 1 | 1 | 1 |
| 1 | 111 | 11 order by 100-- - | 1 | 1 | 1 |

Reach Us
New No 79-Old No 105, Eswaran Koil St, Town Hall, Coimbatore - 641001
Ph : 0422 2395831